The 2020 Rocket Mortgage Classic is that the Forth tournament played after the PGA Tour's restart. Defending champion Nate Lashley, who had already won at the Rocket Mortgage Classic 2019, opened with a birdie before hurting his opportunity to repeat with three bogeys and three birdies rest of the round.
We have brought you the highlights of all over the rounds. The 2nd edition of the Rocket Mortgage Classic at Detroit Golf Club in Michigan held on Jul 02 to Jul 05, 2020. Here's everything you need to know to watch all the rounds in detail.
Round 1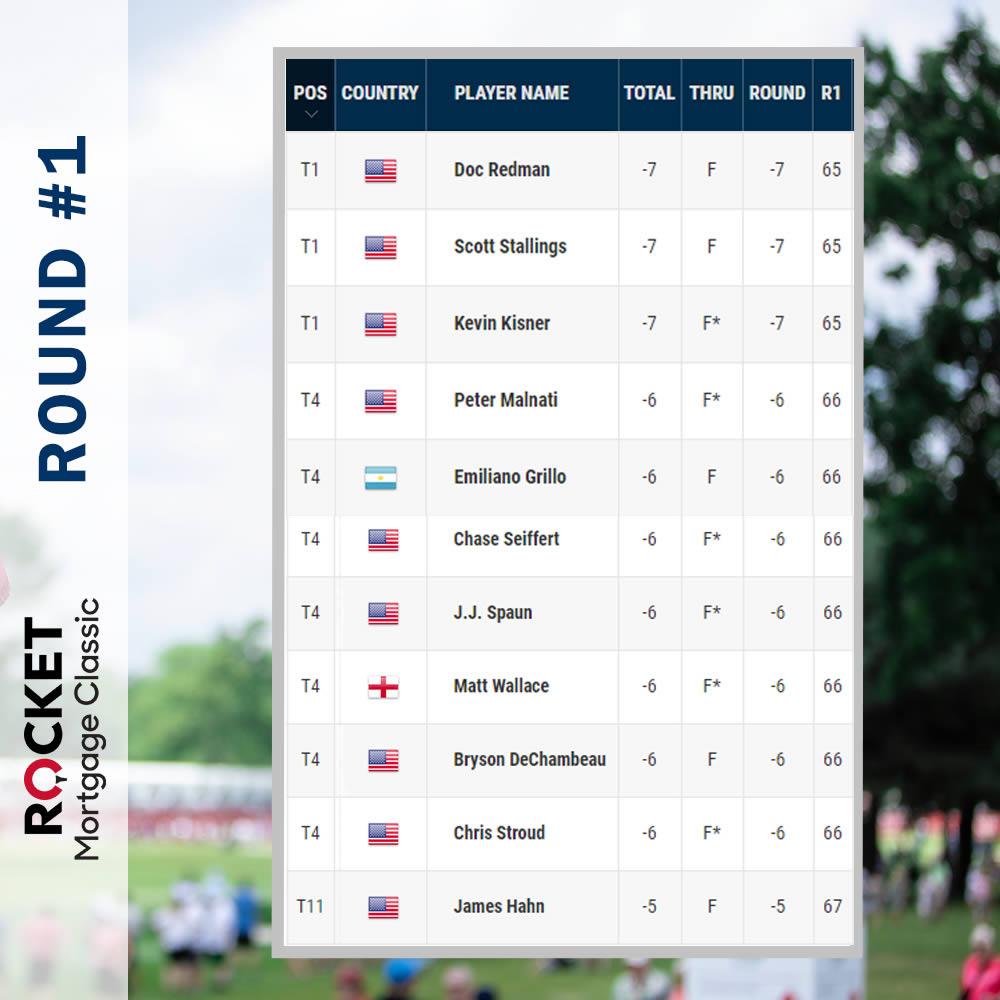 The first round of the Rocket Mortgage Classic produced a crowded leaderboard with Kevin Kisner, Doc Redman and Scott Stallings completing the day tied for the lead position.
Doc Redman is playing his best golf, preparing himself to perhaps earn his first PGA Tour victory. He shot a 7-under 65 on from the start round lead in the Rocket Mortgage Classic. The 22-year-old Redman closed with four straight birdies and 7 over the last eight holes at the Detroit Golf Club. In the previous week's Travelers Championship, Redman completes with a 63 to tie for 11th. His best performance so far, after tying for 21st the RBC Heritage.
Scott Stalling, in his first round at the Rocket Mortgage Classic, he hit 11 of 14 fairways and 15 of 18 greens in regulation, completing at 7 under for the tournament. He has not won since 2014, however, completed in the top 11 in last week's Travelers Championship, providing some momentum going into Rocket Mortgage Classic.
Kevin Kisner hit 13 of 14 fairways and 15 of 18 greens in regulation and completed the day without a bogey. He, who hasn't won a stroke-play tournament since 2017, missed his last two cuts but was nearly flawless round 1 to earn a share of the lead.
Round 2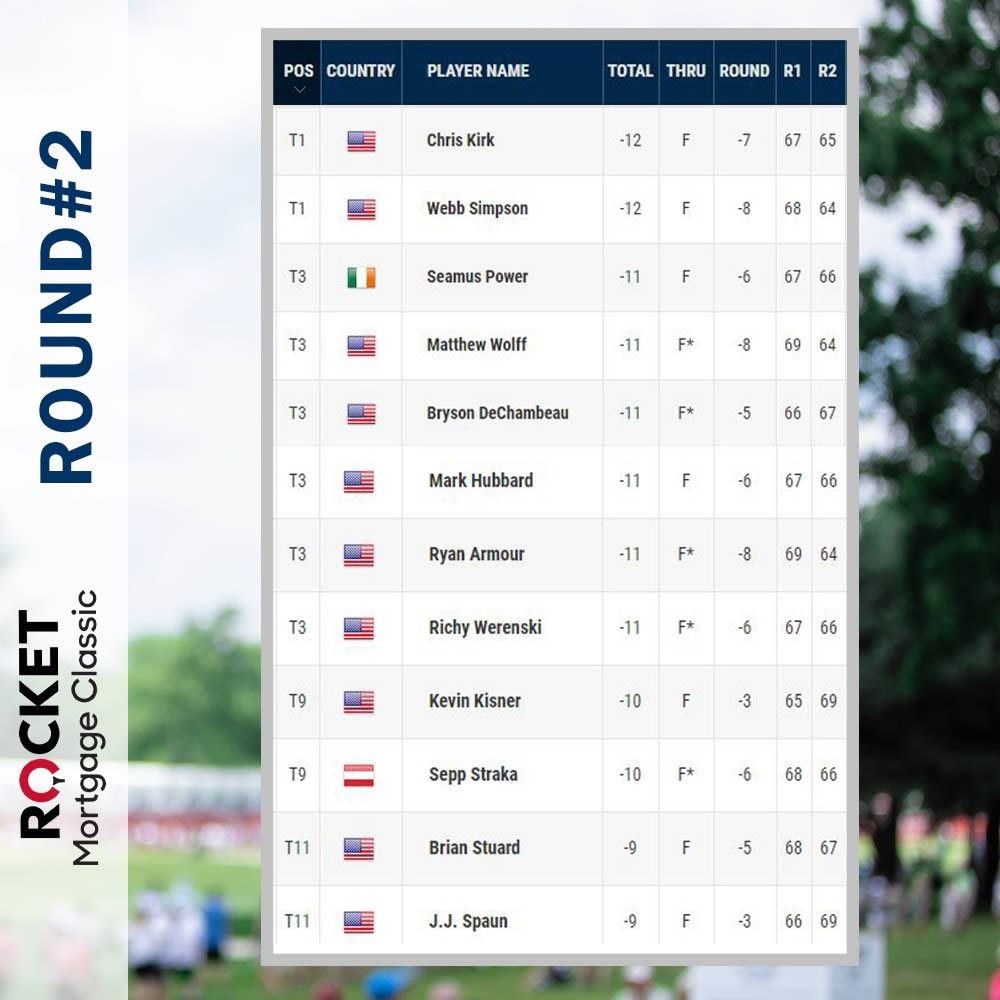 Chris Kirk's newfound confidence doesn't appear to be letting up, although he's missing a couple of greens here and there. Chris Kirk, who fired his best PGA Tour round in eight months during round 1 of the Rocket Mortgage Classic with a 67, went two shots better on round 2. At the end of the day, Chris Kirk hit 12 of 18 greens in regulation during his second round at the Rocket Mortgage Classic tie-up with Webb Simpson, who made a late charge to tug even heading into the weekend.
Webb Simpson is considered one of the best American players in the world. He's the guy to beat after two rounds. He's been lights out together with his irons and is close to jumping to the highest of the 2020 PGA Tour Player of the Year race. In the second round of the 2020 Rocket Mortgage Classic, Webb Simpson carded an 8-under 64 to urge to 12-under for the tournament, putting him in a tie the leaderboard with Chris Kirk heading at round 2.
World number 10 Bryson DeChambeau featured a gathering of six players sharing third on 133 that also included Ireland s Seamus Power and Americans Matthew Wolff, Mark Hubbard, Ryan Armour, and Richy Werenski.
Round 3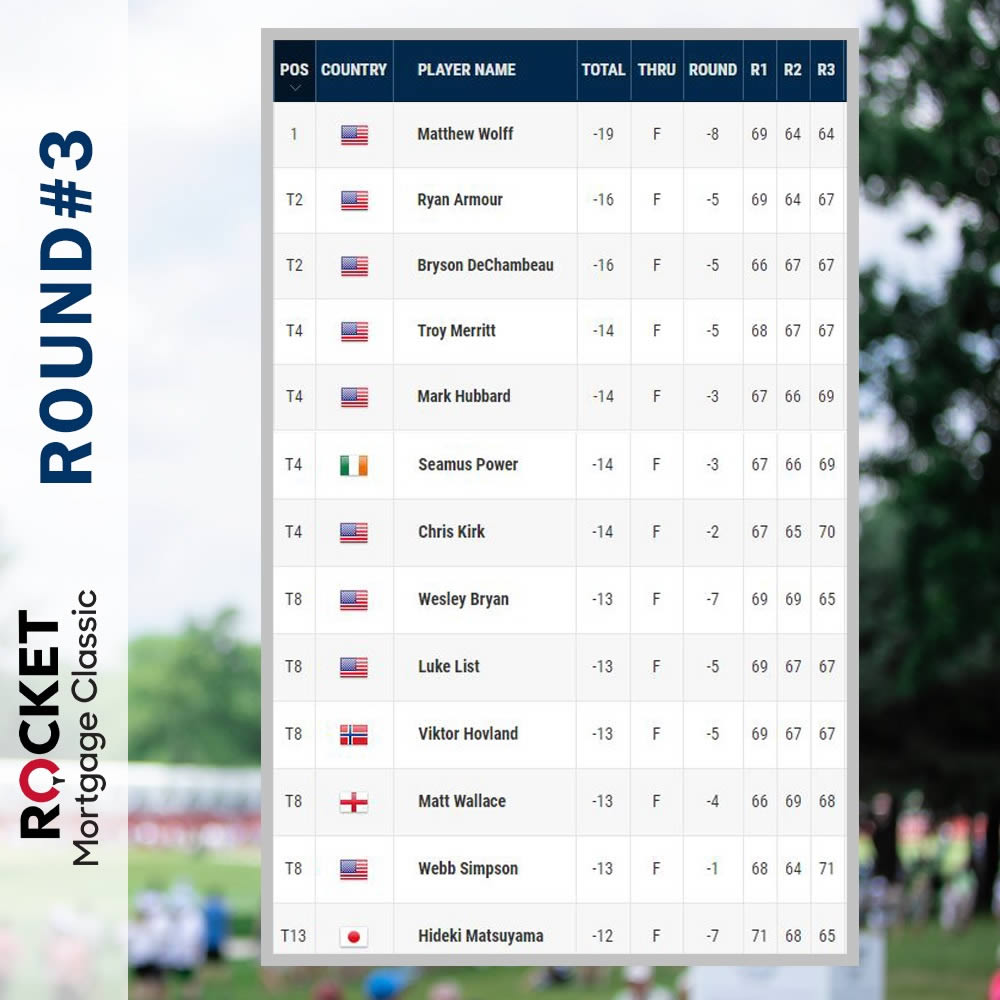 Matthew Wolff is a 21 year old youngster golfer gave everyone a lesson with nine holes and eagled another and bogeyed three on his thanks to a second straight 8-under 64, and a three-stroke lead over Bryson DeChambeau and Ryan Armour. No other player is less than five shots back.
Ryan Armour led for a part of the round. He fell an attempt- a shot behind after Wolff's birdie on 17. Armour fell significantly further after he completed the 17th. His 3rd on the par-5 went over the green. His fourth, from thick rough, went 26 feet past the gap. He missed the par putt. He missed the bogey putt. He got done with a 7. Armour rebounded with a birdie on 18 to take a seat during a tie for second with Bryson DeChambeau.
DeChambeau was 1-under for his round entering the 13th hole. He was 4-under from there. None of his four birdie putts was longer than 9 feet. Now it's a golden opportunity for him to clinch his sixth PGA Title.
Round 4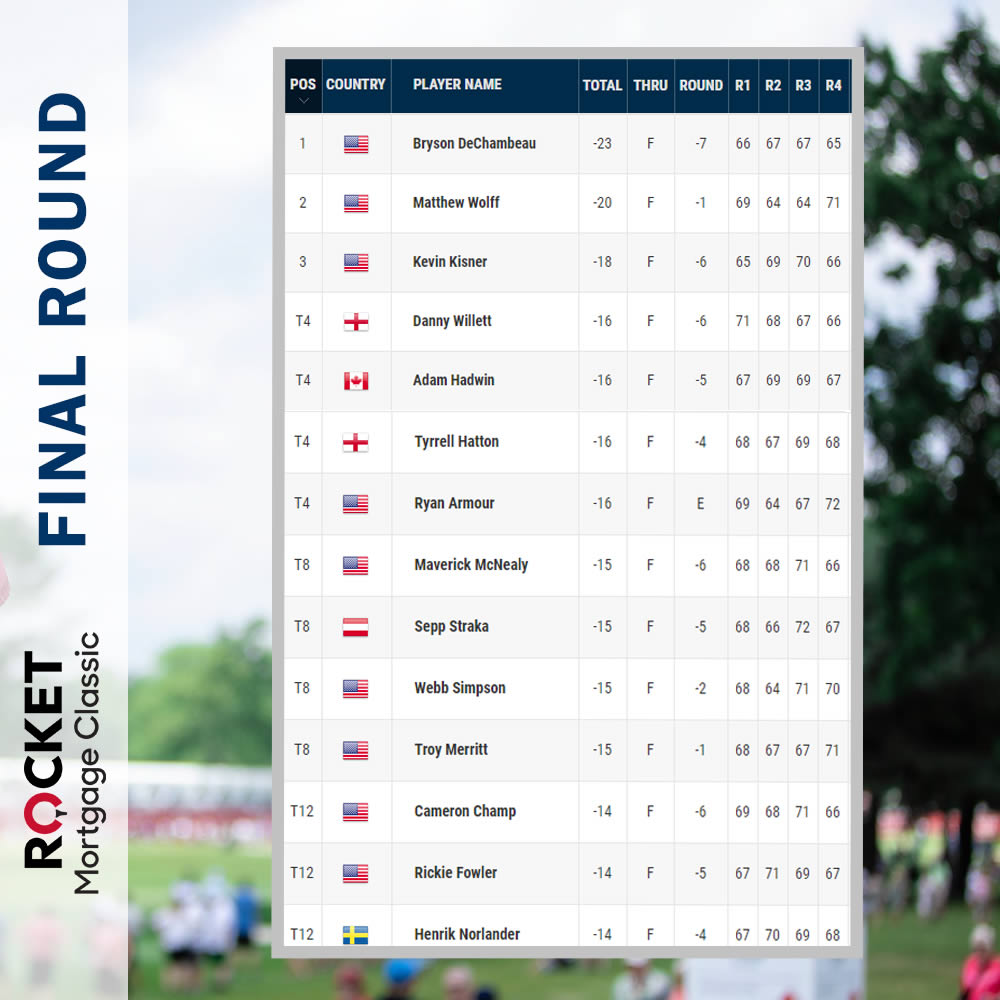 Before the Rocket Mortgage Classic, Bryson DeChambeau had completed within the top 10 at three events since the restart: Charles Schwab Challenge (tied for third), RBC Heritage (tied for eighth), and Travelers Championship (tied for sixth).
DeChambeau was almost flawless impeccable on day four, holing eight birdies and only one bogey – getting done with an exclamation point after birdieing the last three holes to finish on 23 under. He has received $1,350,000 after won the title of Rocket Mortgage Classic.
The previous SMU standout turned professional in 2016 and has Tour triumphs at the John Deere Classic (2017), Memorial Tournament (2018), The Northern Trust (2018), Dell Technologies Championship (2018), Shriners Hospitals for Children Open (2018) and now the Rocket Mortgage Classic.
In the final round at the Rocket Mortgage Classic Matthew Wolff, who made 24 birdies and an eagle in taking the 54-hole lead, was trying to become, the youngest winner of two PGA Tour titles as follows Tiger Woods in 1996. But he was messed up on the front nine and turned in 2-over 38. By the eighth hole, his three-shot lead had turned into a three-shot shortage.
Matthew Wolff hit 10 of 14 fairways and 11 of 18 greens in regulation, he roared back on the rear nine, however, with four birdies in his last seven holes he pulled within one twice but missed a couple of short putts to thwart his rally. He finished his day in 2nd at 20 under. With the second-place finisher Wolff taking home $817,500.
In his final round at the Rocket Mortgage Classic, Kevin Kisner hit 11 of 14 fairways and 13 of 18 greens in regulation and finished the day without a bogey. Kisner finished his day in 3rd at 18 under and won $517,500.