The United States' Xander Schauffele entered the final round of the men's golf tournament with a one-stroke lead on Japan's Hideki Matsuyama. And while a few golfers made it close, it was Schauffele that walked away remaining in the lead, this time with gold around his neck.
The 27-year-old from California shot 4-under par in the final round, finishing the tournament 18-under. It was just enough to hold off Slovakia's Rory Sabbatini for the gold. A birdie on 17 broke a tie with Sabbatini and Schauffele parred on 18 to seal the victory as he joins Charles Sands as the only Americans to win Olympic gold in golf.
While Schauffele was in the spotlight at the end of the tournament, the story of the round was Sabbatini. The Slovakian came into the final round 7-under in a tie for 17th. But Sabbatini found his best game in Round 4, shooting an Olympic record 10-under par, pushing his total score to 17-under. He was sensational with 10 birdies and an eagle in the final 18 holes. His 10-under par was the best score recorded out of any round in the tournament and enough to secure him a silver medal.
For the gold medal-winning Schauffele, it was his second round that put him at the forefront of the golfers. He shot 8-under in the round after a 4-under start from the first round. Schauffele shot 5-under in Round 3 to set him up with the lead heading into the final 18 holes.
After four birdies and no bogeys on the front nine of the final round, he didn't make it easy on himself in the back nine. The American shot four straight pars, bogeyed on 14, had two more pars before the critical birdie on 17th that pulled him ahead of Sabbatini. A par was all he needed on 18 and that's exactly what he delivered.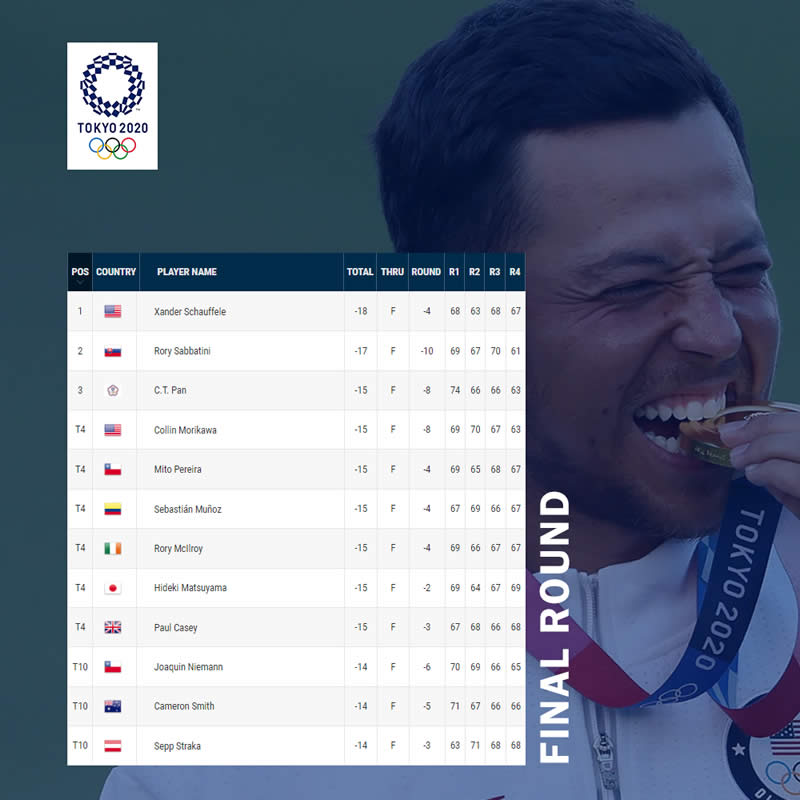 Advertisement
Matsuyama missed a putt on the 18th hole that would have broken him away from a seven-way tie for third. Instead, seven players, including United States' Collin Morikawa, are participating in a playoff to determine the bronze medal winner after all ended the tournament 15-under. In addition to Morikawa and Matsuyami, Paul Casey, C.T. Pan, Mito Pereira, Sebastian Munoz and Rory McIlroy are fighting for the bronze.
After one hole of the playoff, everyone but Matsuyama and Casey shot par to stay alive. The remaining five all shot par on the second hole, but only Morikawa and Pan parred the third hole, eliminating Pereira, McIlroy and Munoz. On the fourth hole of the playoff, Morikawa put a ball into the bunker on the fourth hole of the playoff, which proved fatal as Pan parred the hole while Morikawa missed a long putt for par.