Kevin Kisner's playoff record made less sense than anyone's on the PGA Tour. Until Kisner emerged victorious in a six-way playoff that tied a PGA Tour record Sunday at the Wyndham Championship at Sedgefield Country Club, Kisner had lost all five he'd been in. That's stunning on a number of levels, not the least of which is that sprinkled into the middle of all those playoff losses was a win at the WGC-Dell Technologies Match Play, which is the biggest and best heads-up event in the world.
Kisner was awesome on Sunday, making birdie on two of his last three holes in regulation to get to 15 under and join a crowd at the top that consisted of Adam Scott, Si Woo Kim, Roger Sloan, Kevin Na and Branden Grace, but not Russell Henley. Henley led after the first three rounds but missed two putts under 4 feet on the final nine holes to finish T7. It was a brutal ending to what was an amazing performance from him.
Halfway through the first playoff hole, Kisner looked cooked. Scott hit his approach to 4 feet (more on that below), and Kisner had to get up and down from the front of the green. He nearly holed out for a 3 from there, and Scott ended up missing. All six players made par.
On the second playoff hole, Kisner hit the shot of the tournament, a leg-kicking, club-twirler to 3 feet for the win. He buried it, and spend the next few minutes shaking hands with every player and caddie on the green like the end of a NHL playoff game. It was a hilarious (and amazing) ending to the PGA Tour's regular season.
It was also a great end to the regular season for Kisner, who has now finished in the top 10 in three of his last five PGA Tour events and is playing the best golf he's played in 2021 at the perfect time. He enters the FedEx Cup Playoffs in 29th (the top 30 make it to the Tour Championship) and is now officially on the radar for the U.S. Ryder Cup team, where he would undoubtedly be a popular pick.
Nobody knows how either of those two paths are going to play out (or converge), but Kevin Kisner — literal and figurative Bulldog — has now done the thing you would have expected he'd done all along. He's won a playoff event, fittingly the biggest one since 2001 and tied for the biggest in PGA Tour history. What that means for the future is anyone's guess. What it means for the present is that a three-time PGA Tour winner is now a four-time PGA Tour winner, and Kisner has consistently won at the highest level for the last six years (wins in 2015, 2017, 2019 and 2021), which is as impressive as it is difficult to do.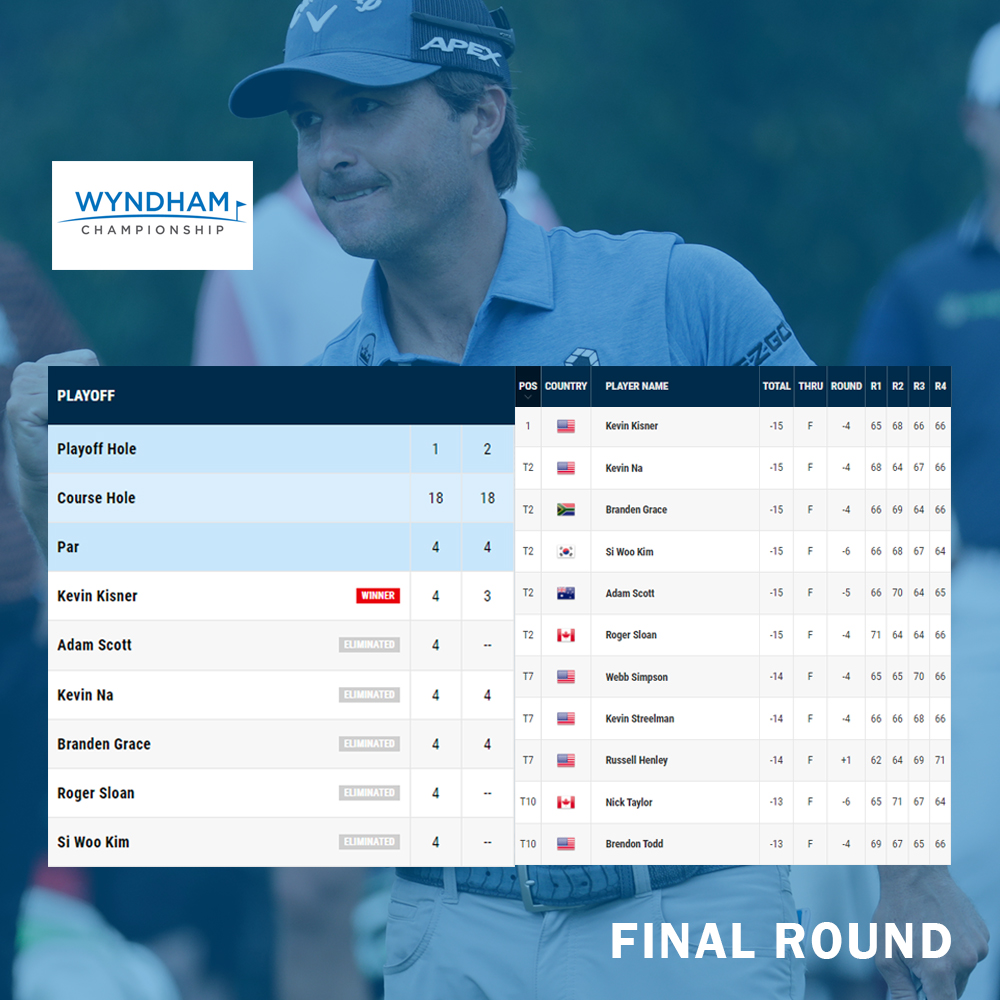 Adam Scott (T2): Scott probably should have won this tournament on the first playoff hole. His 65 on Sunday was sweet, and he absolutely flushed it all day, but a pulled 4-footer on that first playoff hole cost him the win. Still, this is his first top-two finish since the start of 2020 as he's been trying to reorient himself to life as one of the top pros on the planet since the COVID-19 pandemic began. It's always fun to see Scott playing well, and a little momentum could mean he's a bit of a factor in the FedEx Cup Playoffs, which start next week.
Russell Henley (T7): Sunday was a tough one for Henley, who somehow led after every round but then came up short on what would have been a record-setting seven-way playoff. Henley missed some excruciatingly-short putts, including one at the last hole for par, that really erase how well he played throughout the week. It's a reminder of how thin the margin is between winning and losing and has to feel overwhelming to Henley, who must have thought to himself "I played this well for four straight rounds and still couldn't pick up my first win in four years." Henley is a nice pick to make a little noise in the FedEx Cup Playoffs, but this near-miss will probably sting for a while.
Justin Rose (T10): Incredibly, it seems that a three-putt on the final hole of the tournament bumped Rose to No. 126 in the FedEx Cup standings and out of the playoffs and helped Chesson Hadley into the No. 125 slot after he shot 62 on Sunday. Rose does not lose his PGA Tour card, but for somebody who won the FedEx Cup just three years ago, that's a tough way to go out in the last regular season event of the year, especially after how he played all week and the real chance he had to win the tournament late in the final round.
David Lingmerth (T37): Lingmerth, who started the week outside the top 200 in the FedEx Cup standings, faced relegation not to the Korn Ferry Tour Finals but to Q-School just to get regain his Korn Ferry Tour card. Everyone from No. 126-200 in the final FedEx standings at least gets a shot to regain their PGA Tour cards by finishing in the top 25 at the Korn Ferry Tour Finals, but Lingmerth was outside of that. He had to Monday qualify into this tournament before shooting 68-67 to make it to the weekend. He closed with a 67 on Sunday to get in at No. 199 in the FedEx standings, just under the magic number, and he'll be off to Korn Ferry Tour Finals over the next month, no doubt rejuvenated given the fact that he was outside the top 1,000 in the world just a month ago. This T37 finish was his third in four starts on the PGA Tour, and he needed them all just to tread water for another month.
Hideki Matsuyama (MC): Despite a late charge on Friday, Matsuyama was the biggest disappointment this week. He came in on a real heater and nearly won last week at the WGC-FedEx St. Jude Invitational at TPC Southwind, but his putting let him down and kept him from ball-striking his way up the board on the weekend. He'll go into the FedEx Cup Playoffs next week with some real momentum, but any time the tournament favorite fails to play the weekend, it's a bummer of an outcome.