Rahm and Thomas shot 8-under 63s to open the FedEx Cup PlayoffsThe biggest stars on the PGA Tour led the way again Thursday in Round 1 of The Northern Trust as the first leg of the three-week FedEx Cup Playoffs swing kicked into gear. At one of the most loaded non-majors in the past few decades, Jon Rahm and Justin Thomas — a pair of recent major winners — sit atop the leaderboard, and it's difficult to see anyone directly behind them passing both on over the next 54 holes.
Following an early 66 by Harold Varner III (more on him below), Rahm and Thomas took over in the afternoon and put on an absolute show. They shot dueling 63s on dart after dart after dart to end the first day at Liberty National Golf Club. After climbing up to Varner for most of the afternoon, the two flew past him on the leaderboard by playing the last three holes in a combined 5 under.
Let's dive deep into those two spectacular rounds and take a look at who else might have a hope of running them down over the final three days at The Northern Trust.
T1. Jon Rahm, Justin Thomas (-8): The Summer of Rahm continues. He's lost to 15 golfers combined in his last five events (three majors) and trails nobody after 18 holes here. Though he's operating an all-time level, it doesn't seem all that unsustainable. Rahm made just four putts longer than 4 feet on Thursday on his way to the 63. This is the work of somebody who is the most locked-in player in the world from tee to green, and the recent data backs that up.
Thomas has not been as lights out from tee to green of late as Rahm; however, he is historically one of the two or three best iron players on the PGA Tour. He actually usurped Rahm in this category on his way to his own 63 on the back of giving himself nine looks for birdie inside of 10 feet. Thomas' poor putting has gotten a lot of attention this year — every question he got in his post-round interview was about the old putter he put back in his bag — but his bread and butter is a statistical profile that looks like it did in Round 1: nearly five strokes gained on approach shots and roll in a few of these.
The result here is a tournament that feels dead to the other 121 golfers in the field. Data Golf has the odds of either Thomas or Rahm winning at over 65%, and nobody else has better than 3% odds. The undercurrent here is that there aren't many monsters in the peloton, and now Rahm and J.T. are three clear of third and four clear of fourth. If it was just one of them in this spot — or if the men in this spot were not two of the five best players in the world — the field would feel more in contention. As it stands right now, though? It's difficult to envision anyone other than one of these two grabbing his second win of the season.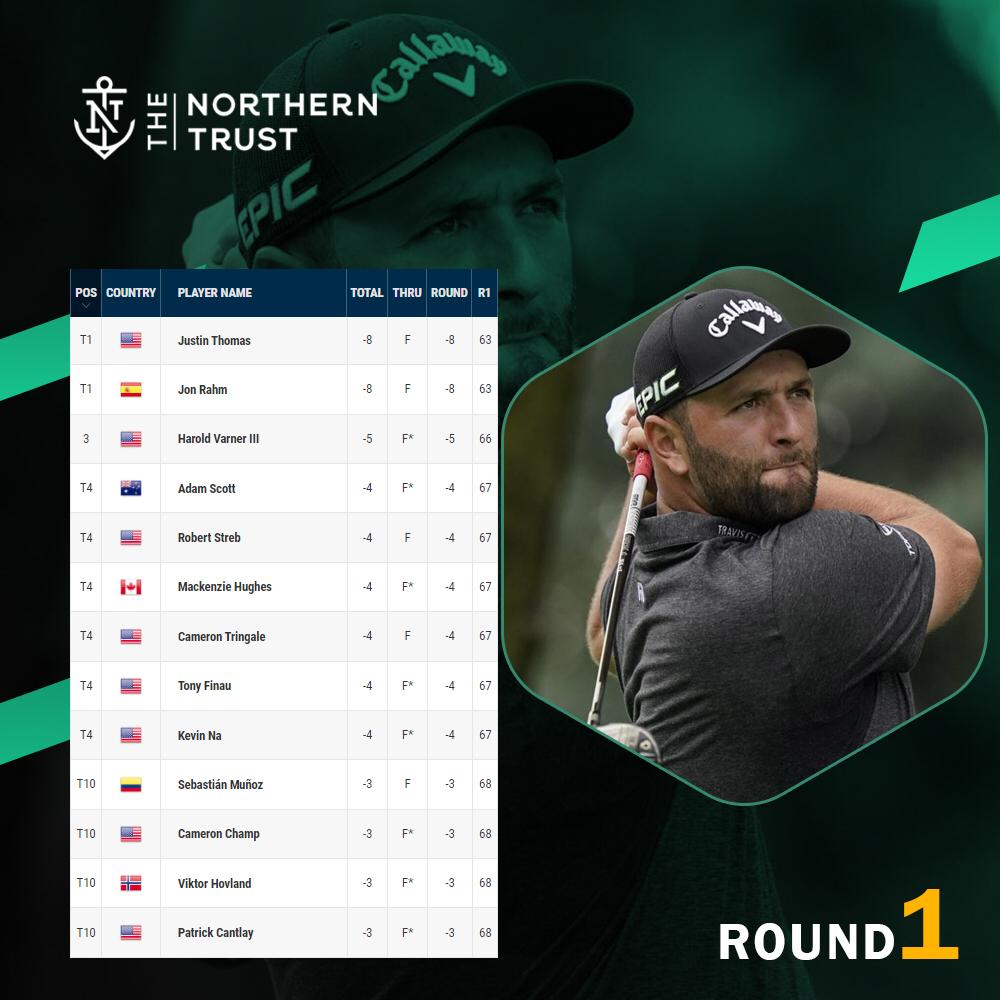 T3. Harold Varner III (-5): Varner, who finished T3 here two years ago, was terrific early on Thursday. He got his putter rolling a little bit, and given how strong he normally is from tee to green, I'm confident in his staying power near the top of this leaderboard. Even more so when you look at who he kept company with in 2019 at this course. Patrick Reed won that year. Rory McIlroy, Adam Scott, Jordan Spieth and Rahm all finished in the top six. Varner hit his irons better than all of them that weekend. He'll likely need to do the same again this weekend to have a chance after how the two guys ahead of him turned it on late in Round 1.
T4. Cameron Tringale, Tony Finau, Adam Scott, Mackenzie Hughes, Kevin Na, Robert Streb (-4): Scott and Finau are at least intriguing here, and Scott has been a beast at Liberty National over the course of his career. He said after his round that he didn't lament losing last weekend when he missed a 4-foot putt in a playoff at the Wyndham Championship, but rather it gave him confidence coming into this week. At 20-1, there might be some value there, although there's a lot more with Finau at 33-1.
T10. Cameron Champ, Viktor Hovland, Patrick Cantlay, Sebastian Munoz, Keith Mitchell (-3): Hovland or Cantlay could certainly make a run at the top two, and both have plenty to play for even if they don't win. Hovland is currently 11th in the FedEx Cup standings, and Cantlay is third. Any kind of high finish this weekend will position them well to be among those who start near 10 under (which is where the leader starts) at the Tour Championship a few weeks from now. This week is about this week, but during the FedEx Cup Playoffs, it's also about two weeks from now and that finale that pays out $15 million to the champ.
T52. Bryson DeChambeau (E): I have to mention him, not because he was great in Round 1, but because of his violent variability. DeChambeau made two pars in Round 1 and somehow shot an even-par 71.