Cantlay and DeChambeau put on an absolute show Sunday in Maryland
The summer of playoffs continued Sunday on the PGA Tour, but this one at the 2021 BMW Championship may have been the best of them all. Patrick Cantlay defeated Bryson DeChambeau in a wild six-hole playoff that included a bit of everything. This after the duo finished at 27 under in regulation, four clear of the rest of the field.
Cantlay now sits No. 1 in the FedEx Cup Playoffs standings with DeChambeau in third. Tony Finau, the winner of last week's The Northern Trust, will open the 2021 Tour Championship next Thursday between them.
Plenty happened Sunday, but a good place to jump into the action is on the 14th hole as Cantlay and DeChambeau separated from the pack. Before DeChambeau hit his approach shot, he turned to Cantlay and asked him to stop walking, presumably because it was a disruption as he was about to play his shot.
Cantlay banged a 22-footer on him shortly after that exchange, and the stakes at an already-elevated event were raised. The two best players in the field were noticeably cold toward one another coming home, which might not bode well for the U.S. team's Ryder Cup chances next month but made for a hell of a last two hours at this event.
Their next exchange came at the par-5 16th. DeChambeau birdied and offered an unintentionally humorous fist pump. Cantlay looked like he was on the edge of teetering out of the tournament, but he nailed an 8-footer for par to stay one back. At the next hole, DeChambeau looked like he'd won it. Cantlay hit his tee shot in the water on the par-3 17th, and DeChambeau was safely up by the green. But the Big Golfer flubbed his chip, and Cantlay hit another 8-footer for par. Both made bogey, and Cantlay remained one back going to the 72nd hole.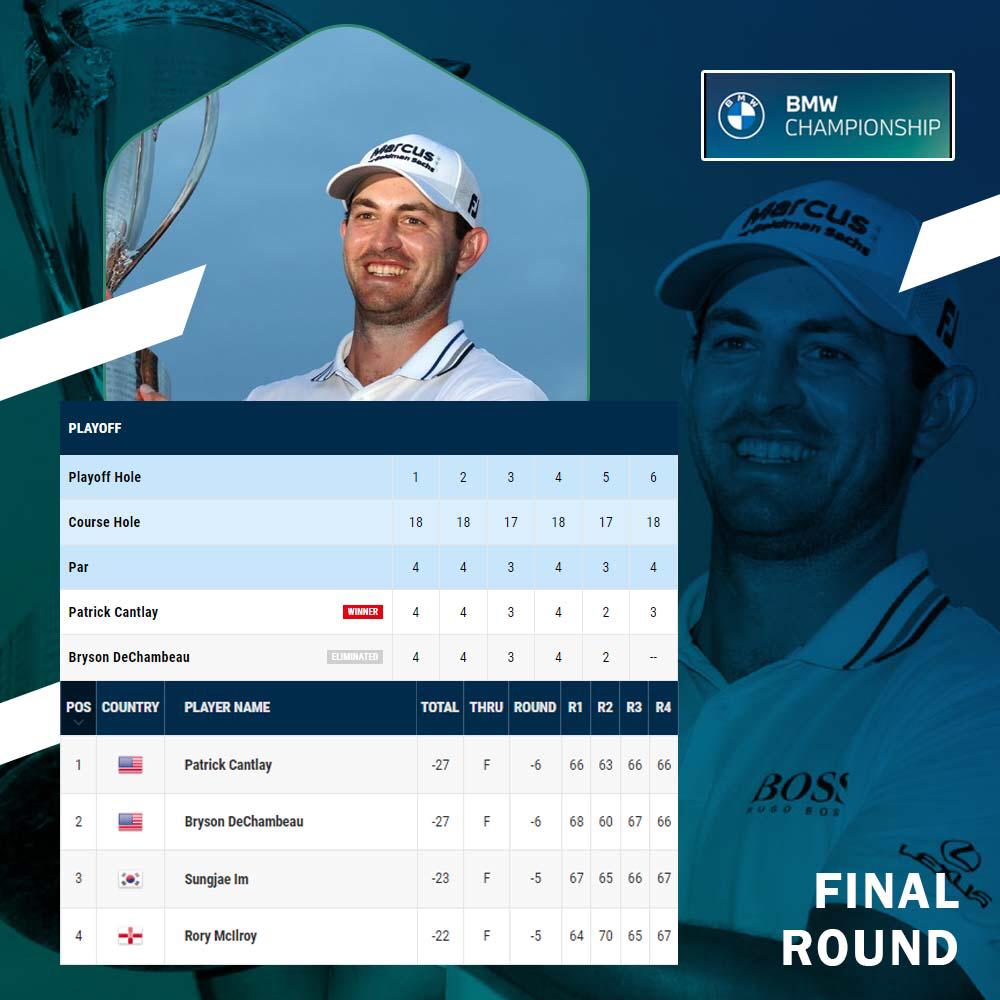 Cantlay sent the tournament into a playoff with a 22-footer for birdie on that 72nd hole (which, it turns out, would be a bit of foreshadowing). What ensued was six holes of chaos. Over and again in the playoff, it looked like both players were buried. DeChambeau had a 6-footer to win on the second playoff hole but missed it. He hit it in the water on the fourth playoff hole and got up and down from 150 yards to stay alive. He hit it to 6 feet on the fifth playoff hole, but Cantlay dropped it it inside his ensuing putt (both made birdie). It was a redux of the Travelers Championship earlier this summer, which went an astounding eight playoff holes, but this one with two of the top 10 players in the world and a lot more on the line.
Cantlay got him in the end with, no surprise here, a long putt. He hit an 18-footer on the sixth playoff hole (the 18th hole on the course) to win his fifth PGA Tour event and third of the season (2020 Zozo Championship, 2021 Memorial). It was the perfect way to cap the greatest putting week in PGA Tour history. Cantlay gained 14.6 strokes with his putter over 72 holes of regulation, which was five more than DeChambeau and nearly eight more than anyone else in the field.
DeChambeau had so many chances, too. He missed five straight putts — the last two holes of regulation and the first three holes of the playoff — from 20 feet and in. Any of the five would have won the tournament. The fact that DeChambeau even went to a playoff is itself difficult to reconcile. On the week, he shot a 60, made 27 birdies, posted four eagles, sat first in the field in driving and second in putting, and incredibly did not win (either in regulation or thereafter). He became the first golfer ever to shoot 27 under or lower through 72 holes and lose on the PGA Tour.
It was legitimately impressive with how DeChambeau played Sunday. He's a good closer, but the last few opportunities have not gone that well, and he endured the greatest putting performance of the last two decades and still probably should have won. Despite the loss, that's a big-time response after the meltdown in Memphis at the WGC-FedEx St. Jude Invitational.
Meanwhile, Cantlay is a nightmare. Just an absolute nightmare. He won't always drop putts like he did this week — or on the back nine where he gained more strokes with his putter on Sunday than 80% of the field did the rest of the week — but he doesn't have to. He can get you in myriad ways: tee to green, up and down from anywhere, and yes, from long distance as well. There's a quality he has that is rare among the best in the world. He seems to truly dislike guys he's battling. Whether that's real or simply for the sake of pumping himself up during competition, it has its benefits and makes for a tremendous show like we saw on Sunday at Caves Valley.
Here are the rest of our grades for the BMW Championship.
Erik van Rooyen (5th): Van Rooyen was playing in the opposite-field Barracuda Championship a month ago, and now he's going to East Lake in 27th place in the FedEx Cup after a few absolutely stellar weeks. He finished seventh last week at The Northern Trust and fifth this week, and his reward is getting to play for $15 million at the Tour Championship. He did it with his irons at Caves Valley, and his final hole was emblematic of that. Van Rooyen, who finished first in the field in strokes gained on approach shots, absolutely stuck his last shot of the week to 3 feet and buried that to secure his spot in the last playoff event.
Jon Rahm (T9): The No. 1 player in the world had a strange week. He started so hot and looked like he was going to be in the mix to win all weekend, but he faded pretty hard over the last 36 holes. Normally when that happens, it's a "well everybody else putted it better than I did" issue, but not this week. He finished top 10 in putting and T9 on the leaderboard. Normally when that happens, he's either going to win, place or show. There aren't really any concerns, and I'm still going to pick him again next week to win the Tour Championship, but this is actually slightly more concerning to me than when he faded in Round 4 of The Northern Trust on Monday.
Tony Finau (T15): Following his win at The Northern Trust, Finau posted a 63 on Sunday at the BMW, which slotted him in the No. 2 position at the Tour Championship. His reward will be starting next week's event at 8 under under, two back of Cantlay's 10-under lead. This is turning into a huge month-long stretch for Finau with a win, potential contention for the FedEx Cup (along with its $15 million first-place prize) and now certain Ryder Cup appearance. After a year of playing below his baseline, it's nice to see him jump back into the picture at the very top of the sport.